Teaching your kids about money parent-child workshop
Many parents agree that it is important to teach their kids about money matters from an early age bu...
/web/common/images/stakeholders/partnership/teaching-kids_s.jpg
youtube
Portal-Programmes
Article
01/04/2016

Teaching your kids about money parent-child workshop
Many parents know it's important to teach their children about money matters at a young age. But most don't know where to start. To help parents pass on money management skills to their kids, we have worked with the Hong Kong Family Welfare Society. Together we have produced an education programme called "Teaching Your Kids about Money Parent-Child Workshops".
Aimed at junior primary school children and their parents, the programme consists of two workshops. In the first, parents are given practical tips on how to guide their children, give pocket money and make a saving plan. Kids learn about sources of income, how to rank spending, protect their assets and similar subjects, through role play and card games. A follow-up session about a month later gives parents the chance to share with others how they put into action what they learned in the first session. This way parents can learn from each other.
In early 2016 when the programme was piloted, we conducted evaluation surveys to gauge feedback from the participating parents to assess the impact of the workshops. The key findings are as follows: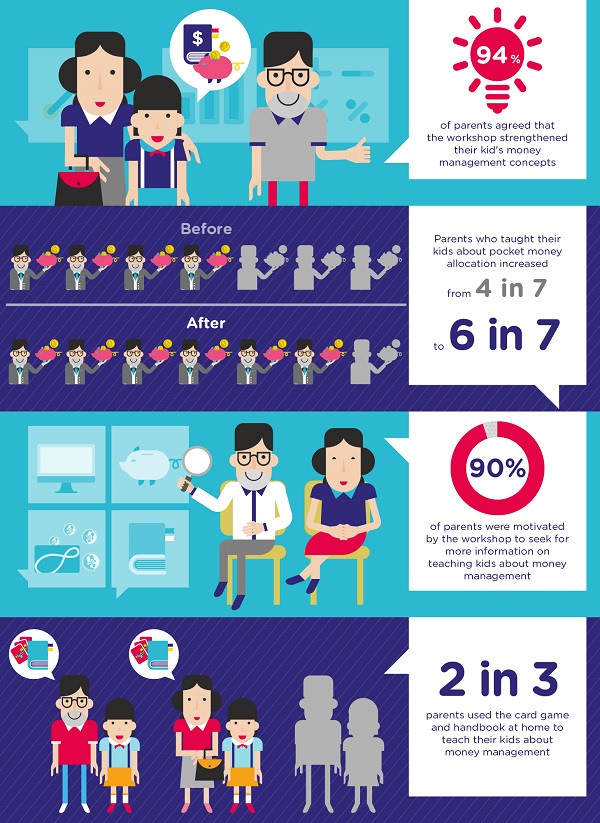 For detailed evaluation of the workshops, please click here.
Interested primary schools or organisations, please contact us at info@thechinfamily.hk for more information.