Be money wise, MPF smart
Hong Kong's Mandatory Provident Funds (MPF) scheme has been introduced for more than 15 years, but m...
/web/common/images/youth/youth-investment/be-money-wise-mpf_s.jpg
youtube
Portal-YoungAdultsAndMoney
Infographics
Investment-YoungAdultsPortal
Article
01/04/2016

Be money wise, MPF smart
Hong Kong's Mandatory Provident Funds (MPF) scheme has been introduced for more than 15 years, but many people do not pay close attention to their MPF investment. This is unwise because a well-managed MPF can help you accumulate a good sum of money for your retirement.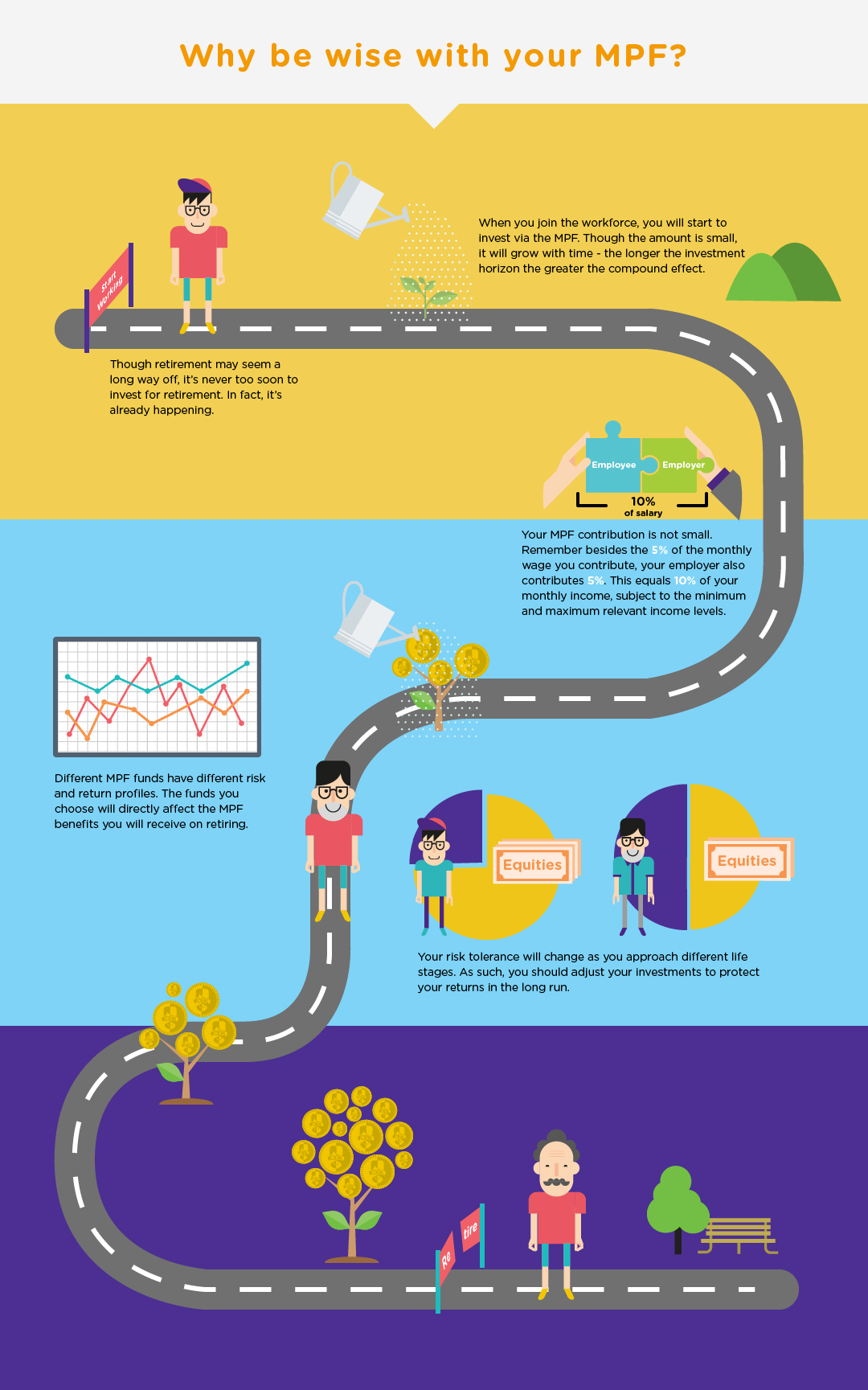 Importance of MPF management on your return
Let's say you are 25 years old, earning $15,000 per month, and have just started putting money into your MPF. If the annualised rate of return is 1%, your MPF accrued benefit will be $1.95 million when you are 65. But if the rate of return is 4%, then you will get $3.37 million. With the difference in return rate, the outcome can vary a lot over the long term due to the compound interest effect.
Annualised rate of return
Estimated MPF accrued benefits at 65
If you are a 25-year-old earning $15,000 per month, with a 3.9% increase every year.
1%
$1.95 million
4%
$3.37 million
Note: According to the MPFA's Fifteen-Year Investment Performance of the MPF System Report, the annualized 15-year investment return of the MPF System was 3.1%, from December 2000 to November 2015. The inflation rate for the same period was 1.8%.
The goal of the MPF is to help you to accumulate savings for retirement. So when choosing and managing your MPF investment, do not blindly chase high returns. Be smart, consider your risk tolerance level and select the right investment mix.
What should you invest in if you are young?
Each MPF fund is different. There are steady growth low-risk funds, and higher risk funds with stronger growth potential:
| Type of MPF funds | Investment objective | Risk level | Annualised rate of return (December 2000 to November 2015) |
| --- | --- | --- | --- |
| Equity fund | Aim to have capital appreciation and a return higher than inflation over the long term | Relatively high | 4.1% |
| Mixed assets fund | Achieve capital appreciation over the long term by investing in a combination of stocks and bonds | Medium to high | 3.9% |
| Bond fund | Earn a stable income from interest or bond coupon rates, and make a profit from bond trading | Low to medium | 2.8% |
| Guaranteed fund | Seek a guarantee on capital invested, or get a guaranteed rate of return (subject to conditions, such as a minimum investment period and withdrawal limits) | Relatively low | 1.3% |
| MPF conservative fund | Target a rate of return similar to the Hong Kong dollar savings rate | Relatively low | 0.8% |
To choose a fund that suits your risk tolerance level and return expectation, consider these factors:
Investment term
Retirement may be a long way off for young people, meaning you may have to invest for 40 years or more. During this time, it is certain the market will go up and down. It is important not to focus on short-term changes, however. The long investment term and dollar-cost averaging strategy, where your MPF contribution is made and invested on a regular basis, can help ease short-term volatilities.
Risk profile
This means how much risk you are willing to take. It is decided by your personality, investment experience and investment goals, among other factors.
Inflation
In Hong Kong, there has been inflation over the past few decades (except a few years of deflation). If this continues then the price of goods may have risen a lot by the time you retire. If the return of your investment is lower than the inflation rate, the purchasing power will decrease.
There is no one answer when deciding on the investment make-up of your MPF. The key is to choose a portfolio that matches your risk tolerance level. If you are young, your investment term will be longer, so you can usually take greater risk. As such, putting a larger share of your money into equity funds may help to counter the risk of inflation.
Although younger people have a higher risk tolerance level and can opt for a greater share of equity funds in their MPF, the risk is also higher. You can diversify the risk by investing in different regions or asset classes. For example, according to the MPFA's Fifteen-Year Investment Performance of the MPF System Report, global equity funds recorded substantially lower volatility than some single market equity funds (such as Hong Kong equity funds) over the 15-year period.
In the future, as you get older, you should consider gradually lowering the risk by reducing the portion of equity funds in the investment portfolio.
Smart MPF management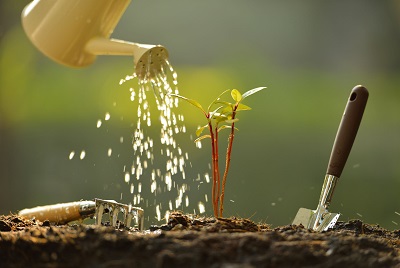 After choosing a suitable investment portfolio, you should prudently manage it. Keep in mind the following:
Regular monitoring
Read the annual MPF benefit statement and understand how much you have contributed and what investments have been made. Also, take into account the MPF trustee's Fund Fact Sheet, which tells you how each fund is performing.
Be persistent
The MPF is a long-term investment. You should not change your investment strategy because of short-term market changes. You should not switch funds on a short-term basis. It's impossible to predict the ups and downs of the market. You may end up buying high and selling low if you guess wrong, losing more than you earn. Besides, MPF funds, just like any other funds, are dealt on a "forward" pricing basis, ie your subscription/redemption will be based on the fund's NAV, calculated when the market closes on the day. As such, you cannot buy or sell funds at any specified prices like trading stocks. Please refer to the below recommended reading for more details.
Combine your accounts
Every time you change job, your new employer will provide you with a new MPF account. If you do not manage your MPF accounts after you changed jobs, then you will have many accounts. It would be difficult to manage and could affect your investment strategy. You can manage the MPF benefits accumulated during your previous employment in one of the following ways:

transfer the balance to your new account under the new employer's MPF scheme, or
transfer the MPF benefits to your existing personal account (if you already have such an account), or
if you do not have a personal account and you are satisfied with the MPF scheme chosen by your former employer, you may consider retaining your MPF benefits in that account for continued investment.

Additional contributions
The World Bank rates the MPF as a key pillar to retirement protection. MPFs help the employed save for retirement. But MPF alone may not be sufficient for a happy retirement because different people may have different expectations on retirement life and also that people are generally living longer due to better healthcare. You should think about making voluntary top-ups to your MPF, or look at other retirement investments. Consult your MPF trustee or employer for more details about voluntary MPF contributions.