5 ways to build trust and boost your kids' FQ with laisee money
Chinese New Year can be a great opportunity to improve kids' financial quotient (FQ)...
/sites/web/common/images/blog/mrs-chin/5-ways-to-boost-kids-fq-with-laisee-money.jpg
youtube
2023
blog
Blog: parenting
Teach-kids-ParentPortal
Hot
11/01/2023

5 ways to build trust and boost your kids' FQ with laisee money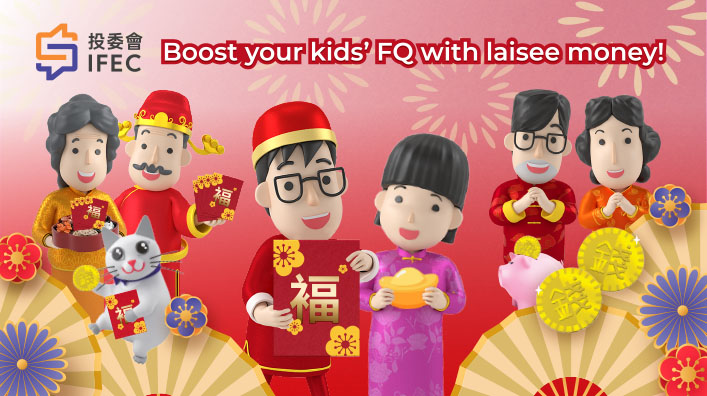 "Success starts with trust" is an inspiring quote I heard from a TV drama recently. Indeed, trust plays a key role in teaching children about money. For example, what should parents do with their kids' laisee money? The little ones may be disappointed if their laisee money is taken, but parents may also be worried that the kids would spend all the money without thinking twice.
While parents' concern is understandable, it is more important to believe in the children and give them a certain degree of autonomy. They may let the children keep part of the laisee money and take this opportunity to teach them the concept of money management and guide them to spend responsibly.
On top of the love and blessings children receive from family through the laisee money during the Chinese New Year, it is also a great opportunity to improve their financial quotient (FQ) and financial literacy.
Here are five tips on teaching your children about money matters during the Chinese New Year (CNY) using IFEC's interactive games and tools.
Tip 1: Learn money concepts through fun games
Children love to play and playtime motivates them to learn. You may introduce your children to some fun-filled online games to level up their money management skills. These games challenge children to complete different festive-related money missions, such as putting the correct amount of laisee money into the red packets, calculating the costs of items in the candy box, and fill the hamper with items that are "needs".
Interactive online games: Let's play fun rituals (Chinese only)
Designed with two levels targeting lower and upper primary students respectively, this interactive festive game helps them learn the different values of local currency, learn to calculate the total amount and the change, and distinguish between needs and wants. After completing the challenges, children can also design personalised digital red couplets with their photos to send heartfelt blessings to friends and families.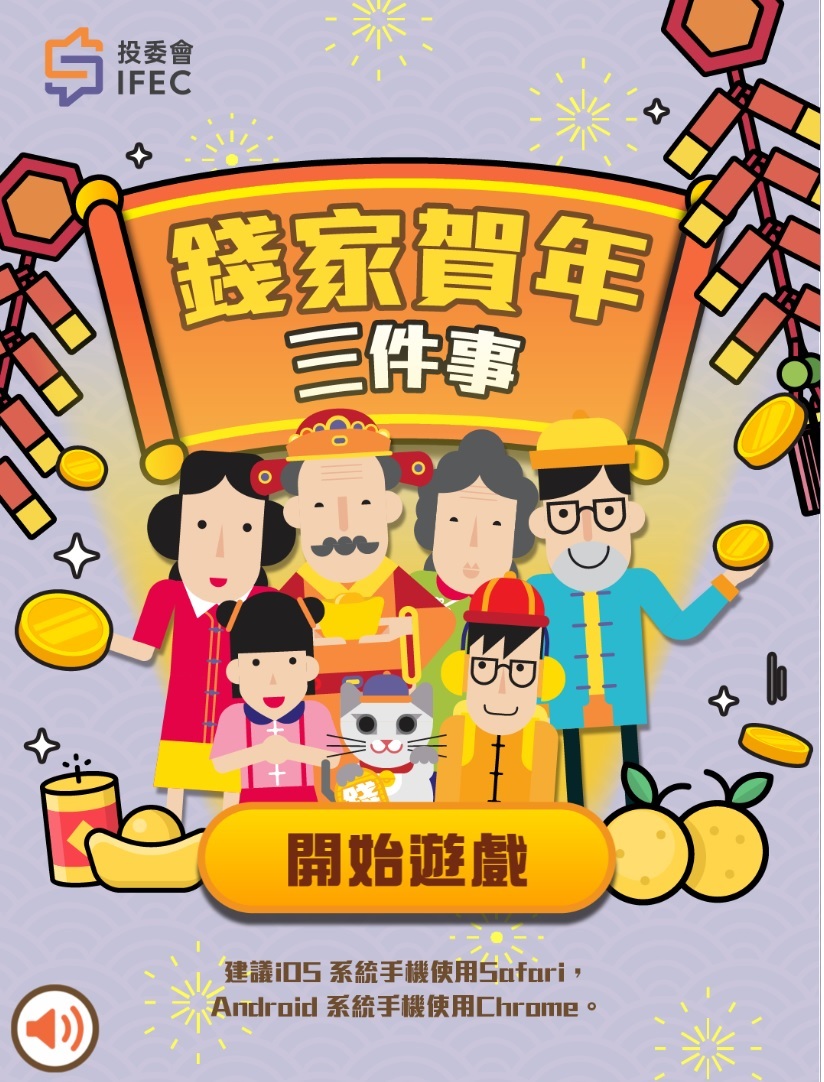 Click here to start the challenge (Chinese only)
Tip 2: Know the bank notes through laisee
You can open the red packets and sort out the bank notes with your children to let them have a better understanding of the local currency. The rise of digital money means that children have fewer opportunities to use cash. In particular, young children may not know the colours, designs and values of different bank notes and coins. For example, they may think that two $20 notes are worth more than one $100 note. For older children, they can take this opportunity to learn more about the features and values of the coins and notes, learn to calculate the change, and even have a glimpse into the development of local currency over the years.
You should also remind the young ones to be grateful for the red packets regardless of how much money they may contain as laisee represents the blessings and love from others.
CNY money worksheets
Let's find the laisee money (Aged 4-8): This worksheet records how much laisee money each member of The Chin Family received.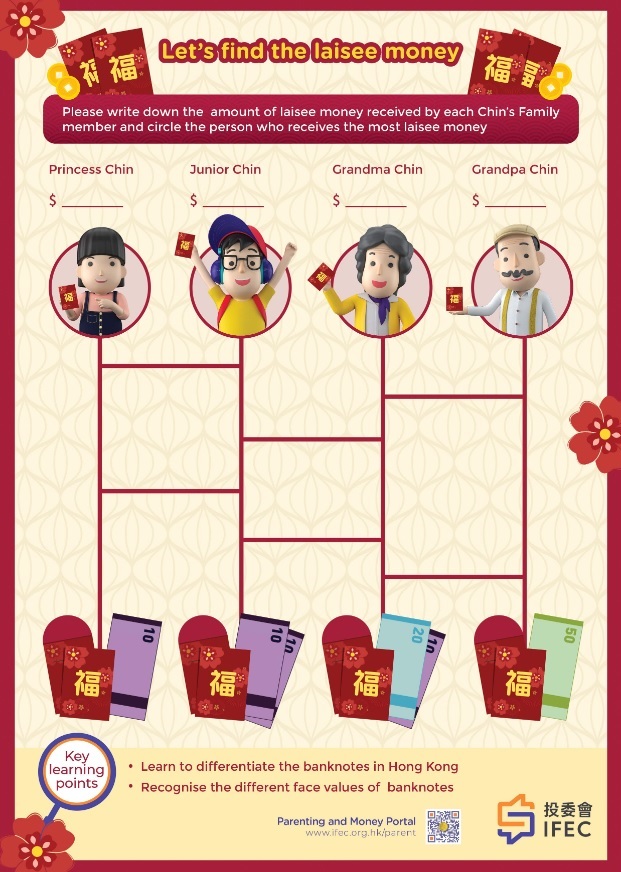 Click here to download
CNY gourmet shopping (Aged 6-11): This worksheet teaches children to count and check the change when buying festive food items.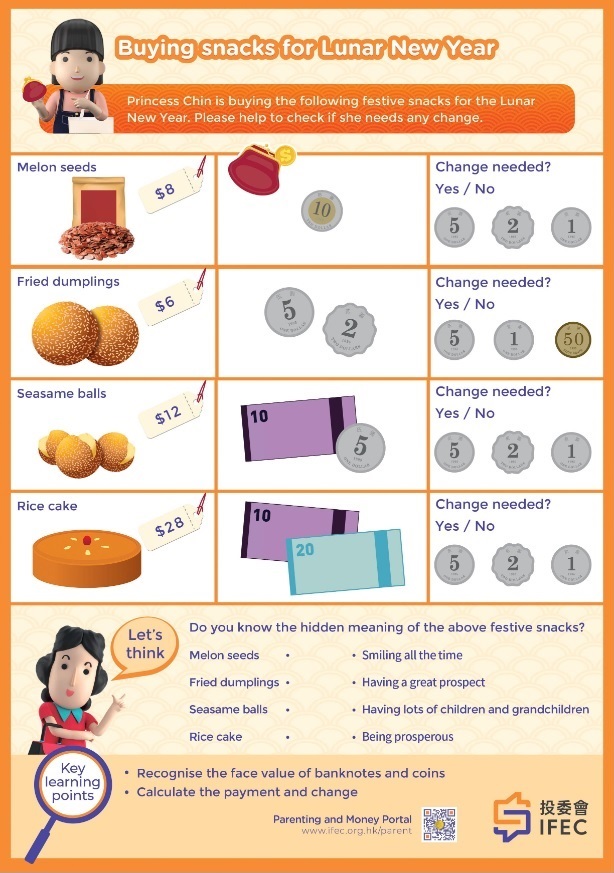 Click here to download
Tip 3: Allocate laisee money wisely
Children have to manage their money when they grow up. Therefore, it is best to let them keep part of the laisee money, if possible, rather than holding up all the money. The point is to give them the autonomy and learn to divide their laisee money into three parts for "saving", "sharing" and "spending".
IFEC's Laisee Money Budget Planner
With this easy-to-use budget planner, children can input the total amount of laisee money they received, and the amount allocated for savings. They can also use the planner to allocate the remaining laisee money for other expenses such as shopping, school needs and donations. With the balance finally shown, children will know whether their laisee money can cover their planned expenses or not.
Click here to start
Tip 4: Learn to save for future goals
The Chinese New Year is also a great time to help your children acquire good saving habits. Since children may not fully understand the concept of savings, or the long-term saving goals you set seem a bit out of reach, they will feel discouraged. The goals should be more achievable. For instance, you can let your children list out a shorter-term saving goal, such as toys or snacks they want to buy, then develop a savings plan together and encourage them to go for it.
For older children, you can teach them the concepts of wealth accumulation and compound interest by helping them open a savings account to keep the money. It will show them that money can keep growing in this account, and that parents are their partners in wealth management.
IFEC's Goal Setting Guide
This Guide teaches children to develop personal financial goals and estimate the time or money needed before developing a savings plan to achieve these goals and keep track of their progress.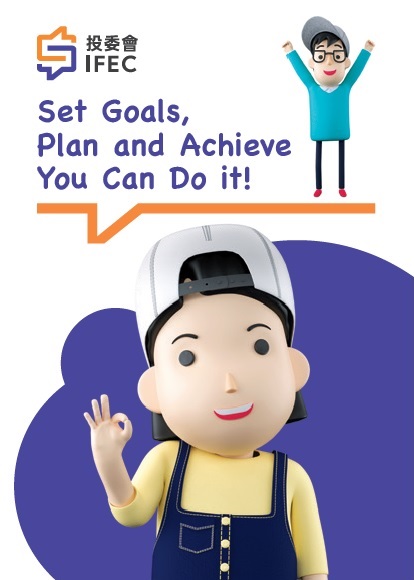 Click here to download
Tip 5: Be the role model and trust your children
The ways parents spend and save will determine their children's attitude towards money. In a recent money management survey conducted by the IFEC which interviewed around 1,000 primary four to six students, 77% of them learnt about money from their parents.
Therefore, to inspire the little ones, you should set a good example and avoid impulse buying. You should also help those in need to encourage the kids to be compassionate and put aside a portion of laisee money for sharing. Most importantly, you should respect and support their decisions as they learn to make good use of their laisee money.