Shopping online this Christmas? Stay safe!
With the festive season fast approaching, your mind may already be turning to Christmas shopping! Sh...
/web/common/images/resources/e-newsletters/dec2015/online_shopping_s.jpg
youtube
01/04/2016

Shopping online this Christmas? Stay safe!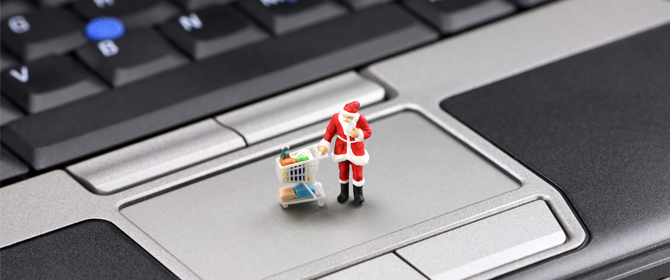 With the festive season fast approaching, your mind may already be turning to Christmas shopping! Shopping online can be a great — and convenient — way to purchase everything you need where ever you are, but it comes with its own set of considerations.
Stay safe and enjoy shopping for your loved ones this Christmas — simply follow the steps below when doing your online shopping.
Look for the padlock
Before you consider purchasing anything, make sure the website you're on has a small padlock icon in the address window — this means that it's a secure site. However, it does not guarantee the merchant is trustworthy, so it is always safer to shop at reputable sites.
Shop in private
It can be tempting to grab something on the go using a mobile app or public Wifi, but resist the urge. It's important to ensure your data is kept safe — one slip-up could be all it takes to compromise your bank account. If you prefer to use apps on one of your devices, make sure to use manufacturer-approved software, and protect yourself by downloading anti-virus and anti-spyware programmes. While most of us do this for our laptops or desktop computers, we often forget that our mobiles and tablets need protection too.
Read the terms and conditions
It's easy to just click 'Accept' — but to be a savvy online shopper, make sure you understand what you're agreeing to by actually reading the terms and conditions in detail.
Never disclose your bank passwords
If a website asks you for your credit card pin or online banking passwords, it's likely to be untrustworthy — you should never need to give out this information to anyone, not even your bank! As a general rule, if you're ever unsure about any aspect of your shopping experience, it's advisable to shop elsewhere. Better safe than sorry!
Clear your cache and cookies regularly
When you shop, websites may offer to store your payment information so it's quicker and easier for you to check out when you shop next time. It's up to you if you'd like to do this, but make sure you consider the risks involved, and decline it if you're uncomfortable. Equally, most retail sites will log things known as cookies — little packets of information that can help to tailor your shopping experience based on your past activity and visits, and make everything runs a little more smoothly. This is common behaviour, but it's good practice to clear your internet cookies and web cache regularly to maintain your desired level of privacy.
Remember to log out
Simply closing the browser is not enough — be sure to actually log out of your account when you're done.
Monitor your spending
Keep tabs on how much you've spent on various sites, and cross-check these records with your bank account to ensure everything is correct. Make sure to do this regularly, preferably on a weekly or monthly basis, so that you can quickly pick up on anything fraudulent.
Understand how your data is used
Many sites will log your browsing and purchase history — you may find that adverts you see on other websites will reflect shopping sites you've recently visited, or items you have purchased in the past. While some of this is desirable, for example offering you items you're more likely to like or making sites you've already visited more efficient, be mindful that you're giving out your behavioural data when surfing the net, and always be aware of the importance of privacy.