Mainland-Hong Kong Stock Connect Investor Education Seminar
The Mainland-Hong Kong Stock Connect will soon be expanded to include Shenzhen. If you have experien...
/web/common/images/tools-and-resources/activities-and-events/index_s.jpg
youtube
26/11/2016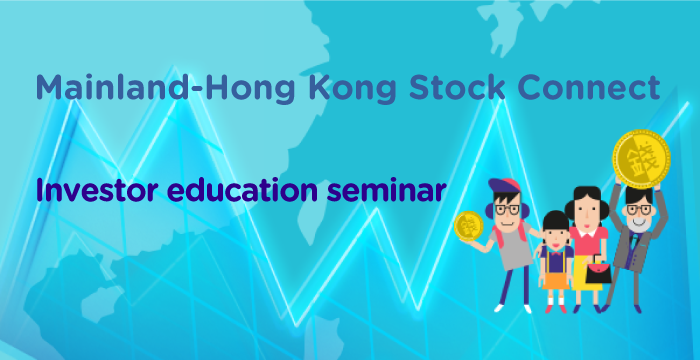 The Investor Education Centre (IEC) will organise a public education seminar to enhance investors understanding of the Mainland-Hong Kong Stock Connect, and the opportunities and risks of A share investments.
Details of the seminar are as follows:
Date
26 November 2016, Saturday
Time
10:30 am to 1:00 pm
Venue
Salon Room, 5 /F, Harbour Grand Hong Kong
23 Oil Street, North Point, Hong Kong (MTR Fortress Hill Station Exit A)
Map
Topics

Key findings of the Stock Connect survey
An overview of Shenzhen-HK Stock Connect
2017 Mainland investment landscape
What to be aware of when investing in A shares, how to manage risk, key criteria in selecting A shares
An analysis of different sectors of the A share market
Impact of Stock Connect to HK investors

Speakers

Prof Leonard Cheng, IEC Chairman and President of Lingnan University
Mr Joe Zhou, Senior Vice President, China Client and Marketing Services, Market Development, Hong Kong Exchanges and Clearing Ltd
Dr Billy Mak, Associate Professor, Department of Finance and Decision Sciences; Director of Development, MBA and MScBM Programmes, School of Business, Hong Kong Baptist University
Mr Ronald Wan, Seasoned financial and investment banker
Mr Derek Mok, Vice President of the Hong Kong Society of Financial Analysts
Mr Andrew Wan, IEC Executive Committee Member; Chief Financial Officer and Senior Director (Corporate Affairs), Securities and Futures Commission

Medium
Cantonese
Fee
Free of charge
Registration
The enrolment has now been closed. Thank you for your support.
To learn more, visit our Mainland-HK Stock Connect Sitelet NEW