Time to act and make your 2016 financial goals come true
As the year draws to a close, now is a great time to start planning your finances for 2016. It's imp...
/web/common/images/resources/e-newsletters/dec2015/new_year_financial_planning_s.jpg
youtube
01/04/2016

Time to act and make your 2016 financial goals come true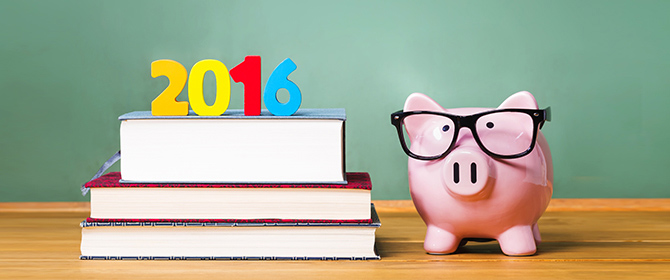 As the year draws to a close, now is a great time to start planning your finances for 2016. It's important to have clear goals in your life's journey, and financial planning is one way of making these achievable. So whether your New Year's financial resolutions include further studying, going on an overseas working holiday, buying a new home or even taking early retirement, here are some tips to help make them a reality.
Set realistic goals
Whether it's getting married, saving for a holiday, buying a car, or even just paying off debts, having a clear idea of what you want to achieve in 2016 is essential for good financial planning. This is because any financial goals have to be realistic. The best approach to finding out what is achievable is to get a good understanding of your financial situation first, and then use that to set your goals. For example, if you have borrowed money at a high rate of interest (like a credit card or personal loan), it's better to pay that off first. Our debt calculator provides an overview of all your personal debts, as well as options and tips to help you manage them effectively.
Target, track and measure
For your financial plan to be a success, you have to be able to chart your progress throughout the year. Keep focused on the amount you want to save, and when you need to access the savings. Also, make sure you know you're saving the right amount in a way you can measure and track. A convenient way to do this is to use our budget planner and mobile app Money Tracker. With these tools, you will be able to monitor your day-to-day expenses and check you are on the way to achieving your goals.
Cut out unnecessary expenses
To be certain you're in the best financial shape you can be for 2016, you must look into the state of your current finances. Our financial health check can help you plan and review your finances. It provides a free analysis report and an action plan outlining key steps which can help make your situation better. There are always areas you can improve and expenses that can be trimmed down. Use our cut-back calculator to prioritise your needs and wants and try to remove any non-essential expenses. All these methods are useful for putting you on the right path.
Be disciplined
Once you've set your goals, you need to stick to your plan about how you're going to make them happen. Our saving goals calculator can help you find out how much you'll need to put aside regularly to reach them on time. However, personal discipline is the key. If you've set a limit to your daily expenses, force yourself not to go over it. Also, try not to skip on any savings instalments each month. This would be a step away from your goals, rather than a step closer.
Priorities come first
If you have several financial goals for 2016, list them in order of importance and deal with the essential ones first. And don't worry if you find that you need to adjust your financial plan if your circumstances change. Just make sure your adjusted financial plan can meet your priorities, and always follow it through.
Don't just dream about your New Year's financial resolutions. Act now – use our calculators to get a head start in putting your 2016 financial plans into action.