Assessing the financial literacy needs of Hong Kong citizens
In order to give relevant financial information and tools to the general public in Hong Kong, it is ...
/web/common/images/resources/e-newsletters/jun2015/literacy_s.jpg
youtube
01/04/2016

Assessing the financial literacy needs of Hong Kong citizens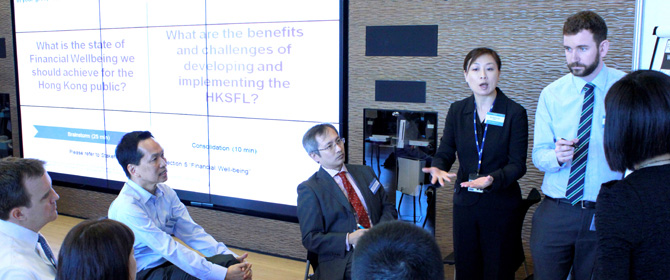 In order to give relevant financial information and tools to the general public in Hong Kong, it is important to understand their needs and challenges – the IEC is doing exactly that via the Hong Kong Strategy for Financial Literacy (HKSFL). General Manager David Kneebone provides an update on the project's progress.
Everyone's individual financial needs are important. At the IEC, our goal is to help people in Hong Kong to learn about a range of financial issues, so they can make informed decisions which benefit both themselves and their family members.
To figure out how we can best help Hong Kong's citizens, we asked ourselves a few key questions. Firstly, what state of financial well-being do most Hongkongers desire? Secondly, what can we do to help achieve it?
Filling the gap with the HKSFL
This is where the HKSFL plays a key role. The project is right at the core of the IEC's mission, and aims to provide communities throughout Hong Kong with the knowledge, attitudes, and skills to better manage their money.
In June, we held a series of workshops for around 100 stakeholders across Hong Kong, with participants from the governmental, finance, community and education sectors. We spoke to people and financial education practitioners from different segments of society, from students to retirees, to assess their needs and see what help they required.
The workshops gauged participants' views on the need for a financial literacy strategy in Hong Kong and the status of and gaps with existing initiatives. Also we discussed the essential financial attitudes, knowledge and skills required for the population, initiatives and resources for development and promotion as well as measures by which we can track the success of the HKSFL.
We received a lot of positive feedback about our workshops, and would like to extend our sincere gratitude to everyone who participated.
The next steps
We plan to publish a draft of our strategy paper in the third quarter of 2015, and will seek further support from the wider community.
Alongside these workshops, we have already reviewed the financial education initiatives currently in place, the relevant academic research, and practices across the world to gain an overview of the best way forward for Hong Kong. We have also recently created an interim Steering Committee to help guide and promote the HKSFL, so it can be as effective and sustainable as possible.
To achieve this, it is vital that the public and private sectors work together. We believe that all parts of society have a part to play in improving financial literacy – financial education goes hand-in-hand with market regulation and policy.
Through community engagement and region-wide cooperation, the HKSFL will help Hongkongers take positive steps on the road to financial well-being.
If you are interested in getting involved and contributing to the collaborative development of the HKSFL, we would love to hear from you. Please contact us at hksfl@hkiec.hk.