Consolidate your MPF personal accounts in 3 steps
If you have a number of MPF accounts, you will be receiving letters and documents from different MPF...
/web/common/images/resources/hot-topics/consolidate-your-mpf_s.jpg
youtube
06/04/2017

Consolidate your MPF personal accounts in 3 steps
If you have a number of MPF accounts, you will likely be receiving letters and documents from various MPF trustees from time to time. The more accounts you have, the more documents you receive. Some may find it difficult to handle all these documents and simply leave them unattended! Sooner or later, you will forget how many MPF accounts you hold, not to mention how much money, or which funds you have chosen to invest in.
Management of MPF accounts can be simplified. Take note of the following, and you will be able to consolidate all your personal accounts (Note 1) in 3 easy steps!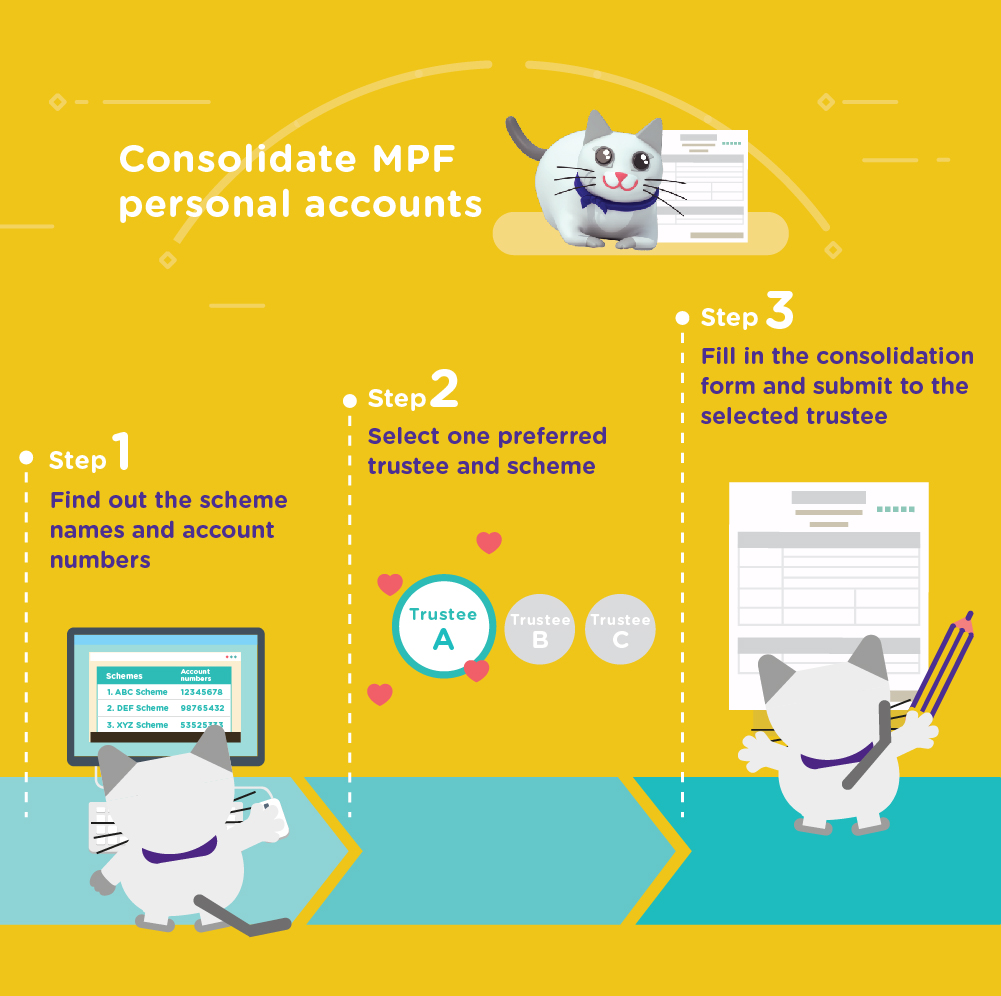 Step 1: Find out the scheme names and account numbers
To consolidate your personal accounts, you must first find out the scheme name and account number of each of your account. You can obtain these two pieces of information via:
Documents sent to you by MPF trustees, such as the annual benefit statements; or
Check with your MPF trustees, e.g. login your MPF accounts online, or contact your trustees directly (Contacts of MPF trustees)
What if I don't know how many accounts I have?
If you do not know how many accounts you have, or are unsure of which trustees are managing your MPF, download and complete the "Personal Account Information Enquiry Form", and return to the Mandatory Provident Fund Schemes Authority (MPFA) by mail or fax (you can also visit in person) together with a copy of your HKID card. MPFA can tell you how many personal accounts you have, and with which trustees. However, it does not have your account number information. Upon receiving the reply from MPFA, you will have to contact the trustees to obtain the account numbers.
You can also apply the MPFA's E-enquiry of Personal Account to check your personal account online anytime, anywhere.
Step 2: Select trustee and scheme
You can select one preferred trustee and scheme amongst your various personal accounts, so that you can consolidate all your accounts into the selected one (Note 2). Consider various factors when you select the preferred trustee/scheme, such as products (scheme and fund), services, fees and personal considerations. You can refer to the MPFA Trustee Service Comparative Platform.
Step 3: Fill in the consolidation form and submit to the selected trustee
Next, you can complete the "Scheme Member's Request for Account Consolidation Form". Simply follow the instructions of the sample. Submit the completed form to your selected trustee. After 2-3 weeks, you will receive a "Transfer Statement" from your former trustee and a "Transfer Confirmation" from your new trustee. Verify carefully to ensure the information is correct. Your consolidation of personal accounts is now complete!
What should I do if I forgot my signature?
Make sure that the signature on the account consolidation form is the same as the one you previously used with the trustees. Otherwise, the consolidation request may not be processed. If you have forgotten or are not sure about the signature, you can check with the trustees. But if you have a number of personal accounts, you may then need to contact different trustees to check the signature.
Instead of checking one by one, some trustees suggest that clients submit a simple signature verification declaration together with the account consolidation form. You can check with your preferred trustee for details and obtain the signature verification declaration form.
Points to note when consolidating personal accounts
No processing fees will be required for personal account consolidation or transfer of accrued benefits.
Consolidation of accounts involve buying, selling and transferring of accrued benefits. There is usually a time-lag of one to two weeks where your MPF benefits will not be invested. Thus, you may be subject to the "sell high, buy low" or "sell low, buy high" scenarios.
If you have selected a "guaranteed fund" in the original scheme, you may not be entitled to the guaranteed rate of return as a result of the transfer of accrued benefits.
As you consolidate your accounts, take the opportunity to review the fund choices and see if they are still appropriate. Read our article: Five steps to choosing MPF funds.
Next time you take up a new job, remember to take care of your MPF with your former employer. Otherwise, the funds will be transferred into a personal account.
Note 1: A personal account holding a scheme member's MPF accrued benefits, including contributions and investment returns, in respect of former employment or self-employment. New contributions to this account are generally not accepted, though the accrued benefits will continue to be invested according to the scheme member's instructions, and thus fees and charges may still be incurred.
Note 2: Apart from your existing personal accounts, you can also choose to open a new account with another trustee to consolidate all your personal accounts.