Stay vigilant against the risk of prolonged stock suspension
Stock suspension is not uncommon. Suspension of trading can take place due to a number of reasons. F...
/web/common/images/resources/hot-topics/stay-vigilant-stock-suspension_s.jpg
youtube
Hot topics
Portal-Investment
Article
01/04/2016

Stay vigilant against the risk of prolonged stock suspension
Stock suspension is not uncommon. Suspension of trading can take place due to a number of reasons. For example, when the company is about to release price sensitive information, such as announcing a rights issue or a placement, or if it is the subject of litigation, or if there are unusual movements in the stock price or trading volume caused by selected disclosure or leaks of price sensitive information, or market manipulation activities etc. Depending on the circumstances, suspension may last for half a day or for an extended period of time.
If a stock goes through a prolonged suspension, the held stocks will be illiquid and investors will not be able to cash out. Even if trading resumes eventually, there could be material change in the value of the stock. The stock can also be delisted if the company fails to take appropriate measures to resume the trading of its stock. Companies that have been suspended for a long period of time may end up going into liquidation. Therefore, prolonged stock suspension could lead to significant investment risks.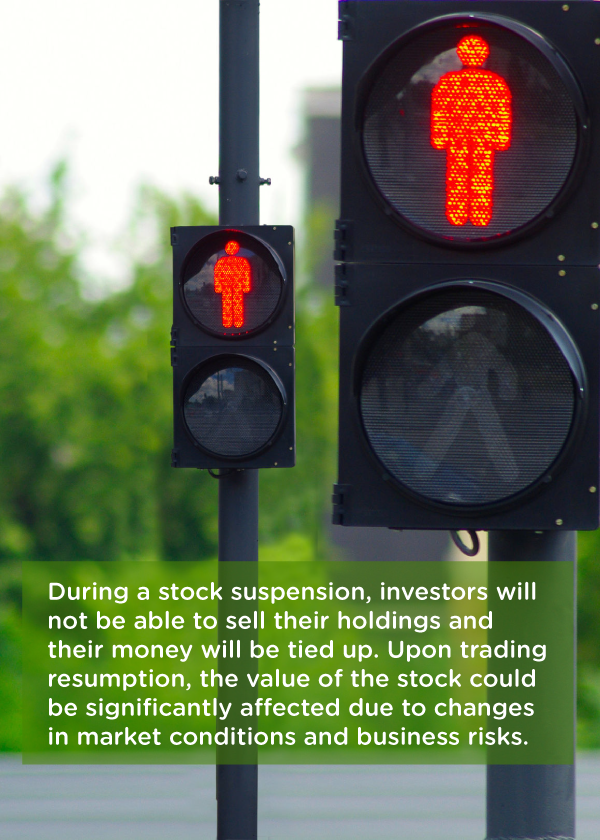 A listed company whose shares have been suspended for a prolonged period is likely to be experiencing some serious and difficult-to-resolve issues. According to the "Monthly Prolonged Suspension Status Report (Main Board)" of the HKEXnews website, 53 main board companies have been suspended for more than three months, as of end of December 2016. The longest-suspended one has stopped trading for six years. Based on the reasons for suspension, these companies can be classified into four categories:
| Reason for trading suspension | No. of companies | The longest suspension of this type of companies |
| --- | --- | --- |
| 1. Severe financial difficulties and/or have either ceased to operate their businesses, and have entered a delisting procedure | 22 | Suspended since September 2010 |
| 2. Irregularities identified and/or are under regulatory investigations | 20 | Suspended since March 2011 |
| 3. Failed to publish financial results and/or have identified material internal control weaknesses | 7 | Suspended since November 2015 |
| 4. Other reasons, e.g. the company has yet to publish material information or has insufficient public float | 4 | Suspended since April 2014 |
| Total | 53 | |
Out of the 1,700 companies listed on the main board, these 53 companies with prolonged trading suspension represent 3% of the overall total. Some of them were once market favourites with high trading volumes, and it is not unusual to see a stock rising sharply based on market news, and then collapsing and suspended from trading just as suddenly.
To avoid purchasing stocks that may be suspended from trading for an extended period, investors should do their research on the company. In particular, investors should stay vigilant against stocks with the following red flags:
Non-transparent information
Sub-par corporate governance
Unstable management
Abnormal changes in auditors
Auditors' Reports with "Disclaimer of the Opinion" or "Qualified Opinion"

Financially unsound
Weak core business
High level of liabilities
High concentration of shareholdings
Volatile stock price
Also, remember the basic concept – don't put all your money into one single stock. Otherwise, all your money will be locked if trading of the stock is suspended. By diversifying your investments, you diversify your risks.