Health and Wealth Programme
Retirement is one of the most significant life events that most people have to deal with. Many retir...
/web/common/images/stakeholders/partnership/health-wealth_s.jpg
youtube
Portal-Programmes
Article
01/04/2016

Health and Wealth Programme
Retirement is one of life's most important events. Many retirees have concern about how to manage their health and finances.
"Health and Wealth" is a financial education programme tailor-made for the retired. A series of workshops are held which address the key financial issues retirees may face. The programme aims to enhance the knowledge and ability of the participants in how they manage their finances. Each workshop takes about 1.5 to two hours.
Workshops cover topics include managing retirement funds to sustain retirement; creating cash income to support living expenses; adopting proper investment practices; protecting assets; and making financial arrangements in preparation for health deterioration and eventually, death.
The programme is run with partners, such as elder academies, non-governmental organisations and retiree associations. Our partners help recruit workshop participants and provide venues, while we provide speakers and education resources.
In 2016 when the programme was piloted, we conducted evaluation surveys to collect feedback from the participants to assess the impact of the programme. The key findings are as follows: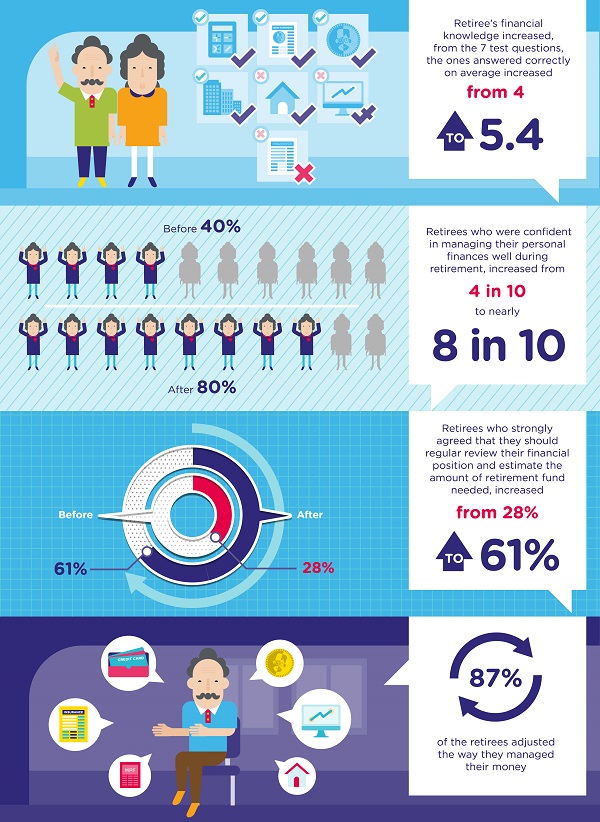 For the full evaluation report of the programme, please click here.
Those interested in joining the workshops, please check "Campaign & Activities" in our website for information about upcoming workshops. Organisations interested in partnering with us, please contact info@thechinfamily.hk.