Tips on borrowing money - never let loans become a family burden
Sound financial management might sound boring and complicated, but it's crucial to a family's happin...
/web/common/images/parent/tips-on-borrowing/life-events-01.jpg
youtube
Portal-Parenting
Video
Parent-tips-ParentPortal
Article
01/04/2016

Tips on borrowing money - never let loans become a family burden
Sound financial management might sound boring and complicated, but it's crucial to a family's happiness. You should work out a financial plan with your partner and share the responsibility of long-term planning and day-to-day management. If you have to take out a loan, you should also take on the responsibility together.
Understand the need to borrow first
Is the loan for an emergency or something essential?
Are you borrowing for shopping, entertainment or travelling?
A good money management plan can prevent you from borrowing too much. So sort out your family finances as soon as possible. Then, discuss and set goals with your partner to avoid situations that could lead to borrowing.
Long-term planning begins with a budget
Tax payments, home-buying, raising kids, tuition and education funds for your children ... all these and more need long-term planning. If you want to borrow for your extra funding needs, you should do the following:
Talk it over first with your partner
Review your finance
Check your debt, such as credit card and personal loans
Work out an expenses table for your family budget and list income, expenses, savings and outstanding loans
Calculate how much you can repay and work out whether interest payments are eating into your family's monthly income
Your property can become part of your family assets, which may be passed on to other members or your children or grand-children. You will also have a sweet home when you get older. Therefore, getting a loan to buy property is a major family decision. As your property will be pledged as collateral against the loan, if you don't repay your mortgage loan on time, your property could be confiscated by the bank or finance company and you would lose your home. Monthly mortgage repayments are usually the biggest outlay for a family. The Hong Kong Monetary Authority estimated the average debt-servicing ratio for mortgages, that is, the percentage of debt compared to the income, to be about 35%. If other debts are added the financial pressure will be even greater.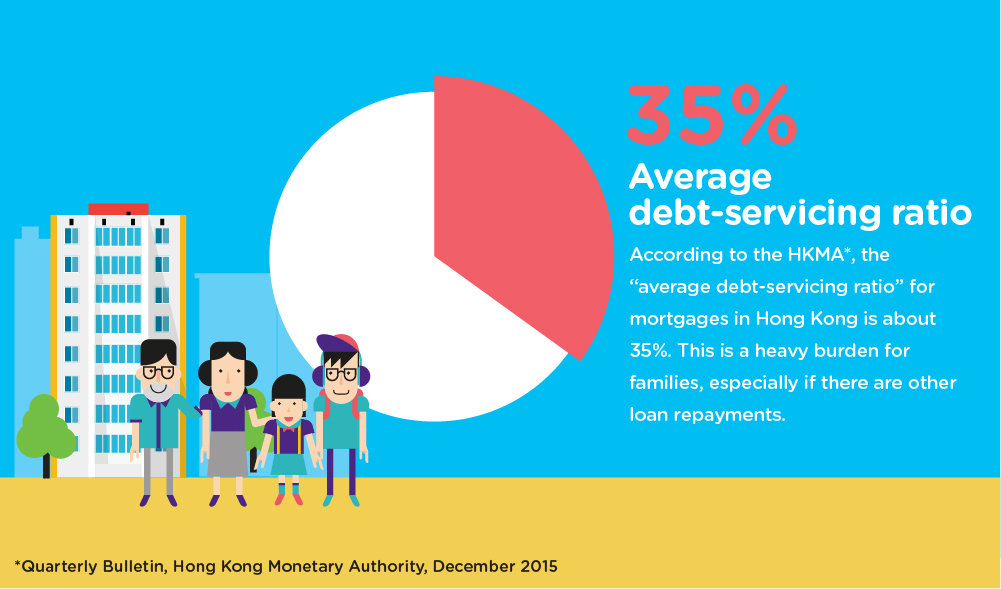 Choose loans carefully and borrow only what you can afford
In addition to mortgages, there are many other types of loans, such as credit cards, personal loans - even tax loans. Banks and finance companies offer attractive lending plans that make borrowing look quick and easy. If you have a stable job or your own property, it'll be fairly easy to get pre-approved credit, a collateral-free loan or a second mortgage. Such deals may look like a quick fix to your financial problems.
But, every loan has terms and interest charges. Mortgage interest rates can be fixed or floating, and there are handling fees for personal or tax loans. If you seek a loan from so-called financial intermediaries or middlemen, you should make sure it isn't a scam. Be careful before you borrow!
Most importantly, consider whether you really need a loan. Then, work out if you can repay it - and never let a loan become a family burden.
Also know your finance companies and intermediaries before offering your property as security for a loan and look carefully behind the loan advertisements and promotions.
*Quarterly Bulletin, Hong Kong Monetary Authority, December 2015