Competency frameworks for financial literacy
Hong Kong Financial Competency Framework
The Hong Kong Financial Competency Framework (FCF) identifies a set of knowledge, skills, attitudes, motivations and behaviour required for financial literacy. It presents the financial competencies that a person at different life stages should ideally possess.
A financial competency framework can be used by different organisations –such as government bodies, policymakers, NGOs, financial institutions and education providers- that are interested in the provision of financial education. However, the framework is not a curriculum and does not prescribe any particular approaches to financial education. It is up to the professional judgement of the various organisations to decide how to address the competencies to design new personal finance units or courses or integrate specific concepts into existing initiatives.
The Hong Kong Financial Competency Framework can be downloaded here.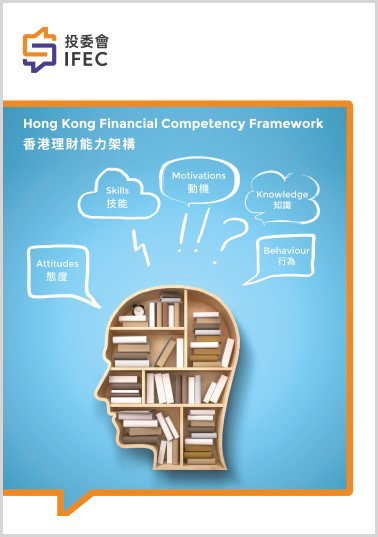 In 2015, the IFEC appointed a research team from The Education University of Hong Kong (EdUHK) to develop the first version of the FCF. In 2019 the FCF was updated, it builds on the original framework and is extended to include the Kindergarten stage.
Traits of a money smart child
As a child grows, he/she develops different financial behaviours. From the FCF, we have identified 20 things that a child should be doing at different ages in order to be financially smart. These should help identify good habits that a child still needs developing. Click here for more details.
Core Competencies Framework on Financial Literacy for Investors
The investing environment as well as investment products are becoming notably more complex. It is crucial for retail investors to be equipped with core competencies that could help them make informed investment decisions.
To support the development and implementation of investor education initiatives across various jurisdictions, in conjunction with the Organisation for Economic Co-operation and Development (OECD), the International Organization of Securities Commission (IOSCO) has developed a Core Competencies Framework on Financial Literacy for Investors by one of its working groups led by the IFEC. This framework provides guidance on areas to be covered in investor education, with a focus on knowledge, skills and attitudes that retail investors need to make informed investment decisions.
Organisations who are keen to develop and/or measure investor education initiatives are welcome to apply the competencies in the Framework. The English version can be download from here.