After-death arrangements
Expenses on funeral and burial arrangements can range from around $10,000 plus to over a million dol...
/web/common/images/retiree/money-matters-life-death/after-death-arrangements_s.jpg
youtube
Portal-Retirement
Infographics
Article
25/05/2017

After-death arrangements
Death should not be taboo. If we make plans and budget for our after-death arrangements, friends and relatives who help handle them will be less troubled. Depending on the preferred funeral and burial arrangements, these expenses can range from around $10,000 plus to over a million dollars. We need to be clear about what we need and how much we can afford, which can help prevent setting aside too much money or being over-prudent that the current lifestyle is affected.
Funeral arrangements
The parting ritual can be held at a funeral parlour. If simpler arrangements are preferred, or if only a small number of friends and relatives are expected to attend, the "farewell services" in hospitals can also be considered. In this situation, the farewell service is held at the hospital where the deceased passed away, before the remains are transported directly to a crematorium or cemetery for cremation or burial. Most hospitals have farewell rooms (or similar rooms) where relatives can hold simple memorial rites. Religious believers could consider holding the farewell rites at a religious venue.
Depending on the size of the rented service hall, the rent for holding a funeral at a funeral parlour can range from a few thousands to more than $10,000. There are also additional expenses for decoration, services and service attendants, etc. These costs are not required in the "farewell services" in hospitals, which make the funeral arrangements relatively less expensive. The coffin is another major cost for a funeral. Depending on the materials selected, a coffin can cost between a few thousand dollars to tens of thousands of dollars. It is best that comparison is made before finalizing the purchase.
Burial arrangements
After you are gone, would you like to have your remains buried in a cemetery? Or do you prefer to have your body cremated and ashes stored in a columbarium niche, scattered in a garden or a boundless sea?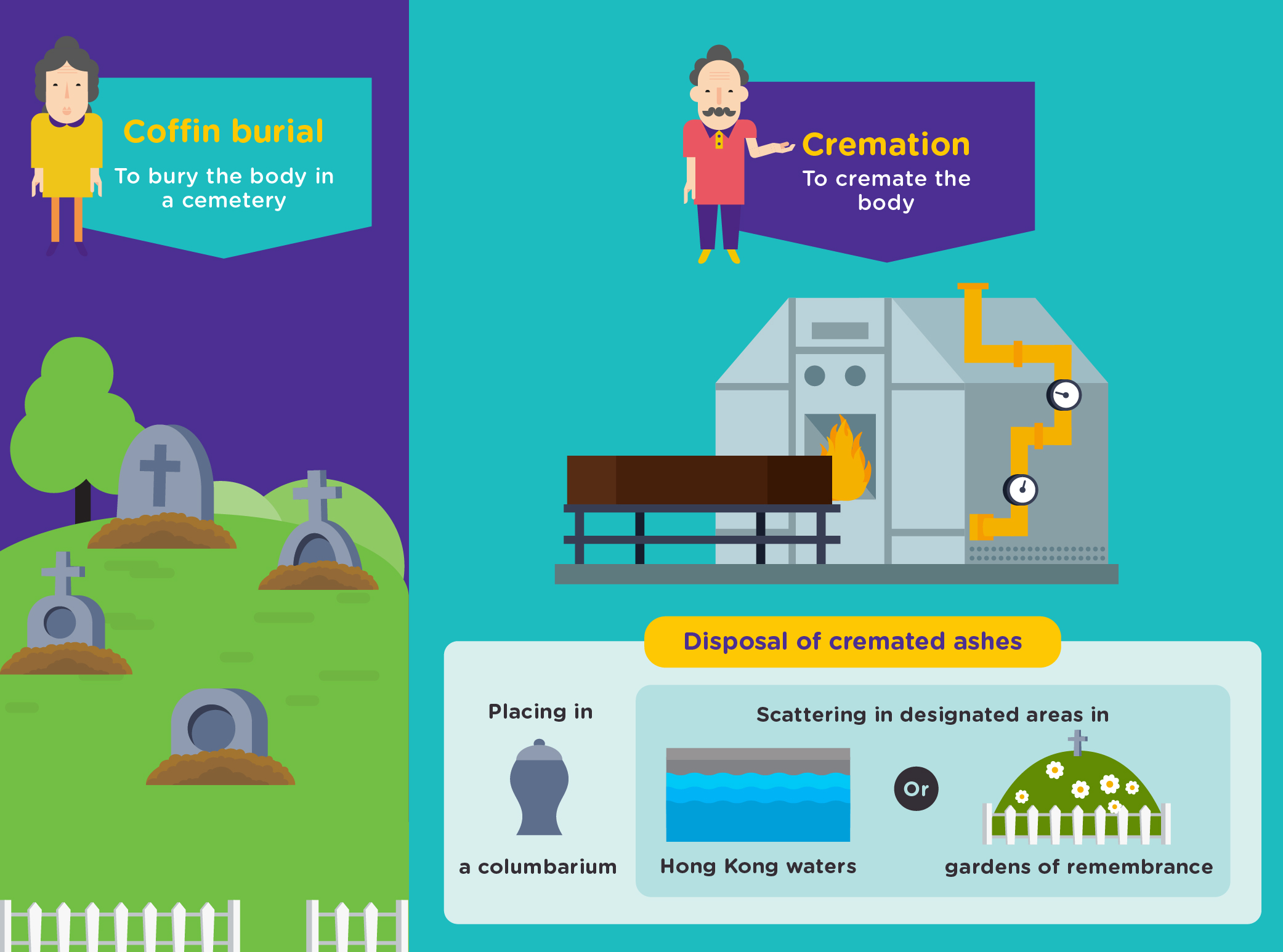 Coffin burial

Traditionally, the Chinese believe that the deceased can be put to rest through coffin burial. Coffin burial (adult) at a public cemetery costs around $3,200, but the remains must be exhumed (i.e. the skeleton removed from the grave) six years after burial. There are also private cemeteries in Hong Kong, which are mainly operated by the Board of Management of the Chinese Permanent Cemeteries and other religious groups. Both permanent and limited period (i.e. remains must be exhumed after a certain period) graves are available from private cemeteries. The costs for burials in a private cemetery are very high. At present, spaces are scarce in both public and private cemeteries.

Cremation

As time changes, cremation is now the most common means to handle human remains. Cremation (adult) in Hong Kong costs about $1,200. Hong Kongers usually store the ashes in columbarium niches. In a public columbarium, the fees for a standard niche is $2,800, a large one costs $3,600. Supply of public columbarium niches is always in serious shortage. Privately-operated columbarium niches, on the other hand, are sold at a much higher price, which range from tens of thousands to millions of dollars. They are not that affordable for many.

If the intention of the deceased is to return to nature, application to scatter the ashes in designated areas in Hong Kong waters or gardens of remembrance can also be made. These basically do not involve much expenses.
An act of love and kindness
You may consider donating organs after-death to help others. By doing so, you can give hope and life to patients waiting for organ transplants. If you are willing to donate organs after death, you should tell your family about your wish.