Finding information
In general, the short name of a warrant quoted on its designated page indicates the basic features o...
/web/common/images/financial-products/investment/warrants/warrants_s.jpg
youtube
Portal-Investment
Article
01/04/2016

Finding information
How can I know the features of a derivative warrant in details?
In general, the short name of a warrant quoted on its designated page indicates the basic features of the warrant. As illustrated in the example below, the derivative warrant cited is an European (E) put (P) warrant on CDE stock issued by AB Company with an expiry date of May 2006 (0605) and settlement in cash (@). The last letter "A" differentiates this warrant from other warrants with the same underlying asset and expiry date issued by the same issuer.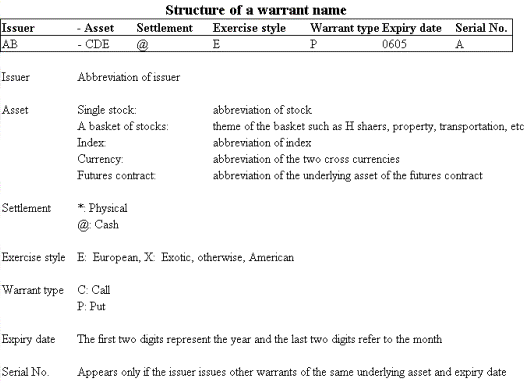 To know in detail the features of a warrant, you can refer to its listing document. The supplemental listing document carries specific information about a warrant's features and terms. On the other hand, information about the background and financial strength of the issuer or the guarantor (if there is one) can be found in the base listing document.
You can find these two listing documents on the website of Hong Kong Exchanges and Clearing Limited (HKEx). Some issuers also post listing documents on their websites.
To understand more about derivative warrants listed in Hong Kong, please refer to the frequently asked questions (FAQ) posted on individual issuers' websites or the HKEx website.
What other information on warrants can I find on the HKEx website?
There is a variety of information on it, such as:
Daily trading summaries: These give you a complete picture of trading activities carried out by issuers and their group companies in their respective derivative warrants on each day. Figures include number of warrants bought/sold, average price per warrant bought/sold, as well as number of warrants and percentage of an issue outstanding in the market.
Pre-listing trading summaries: On the first day of listing of a derivative warrant, the issuer needs to submit a report to the Stock Exchange about its dealings in that warrant in the grey market by itself and its group companies. Such trading information is available in this section.
Trading arrangement announcements: You can look up announcements on new listings, last day of dealings, withdrawal of listings and further issuance of warrants.
Liquidity provider information: Every derivative warrant has a designated liquidity provider to help improve liquidity. You can find information on the liquidity provider for each warrant, including its name, broker number and telephone number for making a quote request.