IFEC Provides Financial Management Tips During COVID-19
The Investor and Financial Education Council (IFEC) today launched the 'Keep Your Finances in Good S...
youtube
29/09/2020

IFEC Provides Financial Management Tips During COVID-19
29 September 2020
Launch of an integrated online campaign themed 'Keep Your Finances in Good Shape under COVID-19' to provide financial management tips for the public to stay on top of their finances and build financial resilience during challenging times
Debt management and investing are two crucial areas to be managed proactively
The Investor and Financial Education Council (IFEC) today launched the 'Keep Your Finances in Good Shape under COVID-19' campaign to provide financial management tips for the public to pay attention to their money matters amid the current challenging economic environment.
The COVID-19 pandemic has brought huge socio-economic impact worldwide, placing a great deal of financial stress on both businesses and individuals. The IFEC, in response to the need to stay vigilant in dealing with the immediate financial risks posed by the current situation, today launched a campaign portal with a wide range of online financial education resources and tools to lend support and provide guidance on financial management to individuals and families.
IFEC Chairman Mr Lester Huang said, "With a growing number of Hong Kong people facing unemployment, reduced income and debt problems, this timely online campaign seeks to encourage the public to examine their financial situation carefully, in particular the six aspects forming the pillars of financial fitness. These aspects include saving, debt management, investing and insurance protection; and over the longer-term, to ensure that retirement and estate planning are in order."
The Financial Literacy Monitor 2019 conducted by the IFEC late last year revealed a snapshot of the situation faced by Hong Kong people in these six aspects of financial fitness and the corresponding areas for improvement. Even prior to the pandemic, the study found that 16% of respondents did not save money at all, and about 22% of respondents said they would not be able to sustain their living expenses for three months or more should they lose their main source of household income.
"This is the time when financial literacy basics such as the importance of emergency savings, budgeting and debt management become crucial," said Mr Huang.
In addition to this campaign, starting from 5 October, the IFEC will launch the World Investor Week (WIW), a global campaign led by the International Organization of Securities Commissions, in Hong Kong for retail investors.
IFEC General Manager Ms Dora Li said, "Retail investors will have to be cautious about market developments, and take into consideration the economic climate and market volatility to assess carefully the need to make adjustments to their portfolios. "
"The IFEC is committed to equipping people with the financial knowledge and skills to make informed financial decisions. Webinars were organised in light of current social distancing measures, covering a wide range of money management and investment topics to address the needs of different demographics including students, new-to-employment, working adults and pre-retirees. We cordially invite everyone to participate in the World Investor Week activities and make use of the tools and resources from the IFEC website to improve their financial fitness," said Ms Li.
More about IFEC activities
Keep Your Finances in Good Shape under COVID-19 Campaign (29 September to end-November)
This integrated online campaign will offer a range of resources including TV infomercials, educational online content, videos, web-based games and financial tools. Members of the public can access the campaign portal and The Chin Family Facebook and Instagram social media channels for details and participation.
World Investor Week (from 5 October onwards)
This year's WIW will cover key themes such as the basics of investing, investing in online and digital environments, recognising the warning signs of investment frauds and green investment opportunities, etc.
Highlights of key IFEC initiatives
A Facebook live seminar on sustainable and ESG investing will be held on 7 October to raise awareness of sustainable investment strategies and the need to build more resilient portfolios.
An online seminar on technology sector analysis will be hosted by the Association of Chartered Certified Accountants, CFA Institute, CFA Society Hong Kong and IFEC on 8 October.
To help novice investors develop fundamental investment skills, an online seminar will be held on 12 October, together with a series of investing 101 videos.
Latest tactics of investment scammers and tips to stay safe and vigilant.
The dedicated World Investor Week portal provides details on activities organised by the IFEC and stakeholders, including the Hong Kong Exchanges and Clearing and the Institute of Financial Planners of Hong Kong supporting this effort.
Attachment:
1. An infographic showing Hong Kong people's performance in the aspects of financial fitness.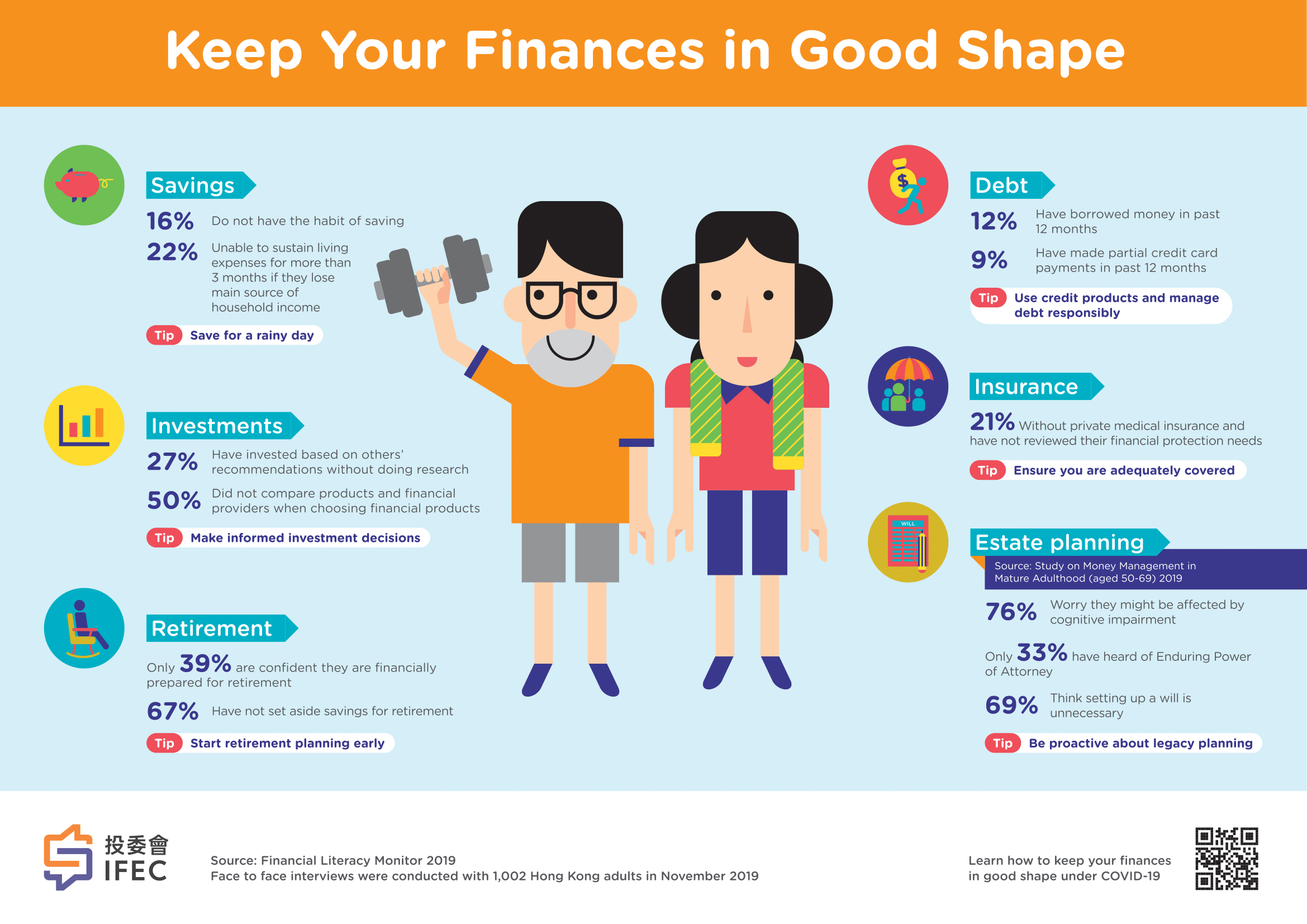 2. A list of activities in Hong Kong during World Investor Week 2020