Trading
What should I pay in buying and selling a stock? Apart from brokerage commission, there are other ty...
/web/common/images/financial-products/financial-intermediaries/brokers/intermediaries_s.jpg
youtube
Portal-Investment
Article
01/04/2016

Trading
When you trade stocks, you can be subject to a variety of fees and charges. Understanding more about the nature of these fees and charges as well as the basis of their calculations enables you to compare and choose the service of an intermediary (e.g. bank, brokerage) that suits your investment needs.
You should note that the calculation illustrations in this series of articles are examples only. The basis of calculation used in the examples may not represent the practices of individual intermediaries. Other calculation methodologies are not uncommon.
What should I pay in buying and selling a stock?
Apart from brokerage commission, there are other types of fees and charges when you buy and sell stocks. The fee levels may also vary by your mode of trading, e.g. trading on-line may subject you to different fees compared to calling your account executive to place orders.
Brokerage commission
Brokerage commission is usually expressed as a percentage of the transaction amount, or classified into different tiers based on the transaction size - usually the higher the transaction amount, the lower the commission rate. Normally, there is a minimum charge for brokerage commission. Therefore, the actual rate can be higher than the quoted percentage in some small trades.
Other fees
Transaction levy payable to the SFC
Trading fee and trading tariff payable to the SEHK
Stamp duty payable to the HKSAR Government
Some intermediaries also charge their clients a stock settlement fee to recover the fee imposed on them by the Central Clearing and Settlement System (CCASS) for the provision of settlement services.
If you trade stocks frequently but do not intend to hold them long-term, then brokerage commission would constitute a major part of your investment cost.
Example : You buy 100 board lots or 100,000 shares (1,000 shares per board lot) of Company A with a total value of $50,000 through your intermediary. Suppose your Intermediary charges a 0.25% brokerage commission, with a minimum charge of $100. The total transaction cost amounts to $182.00. The breakdowns are as follows: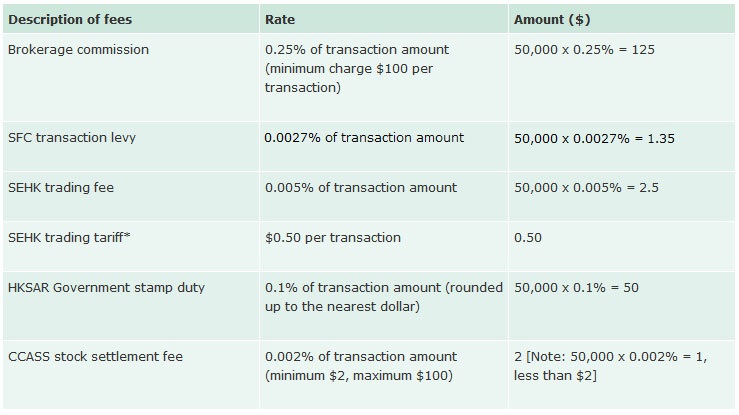 Note: * Most intermediaries waive this fee.